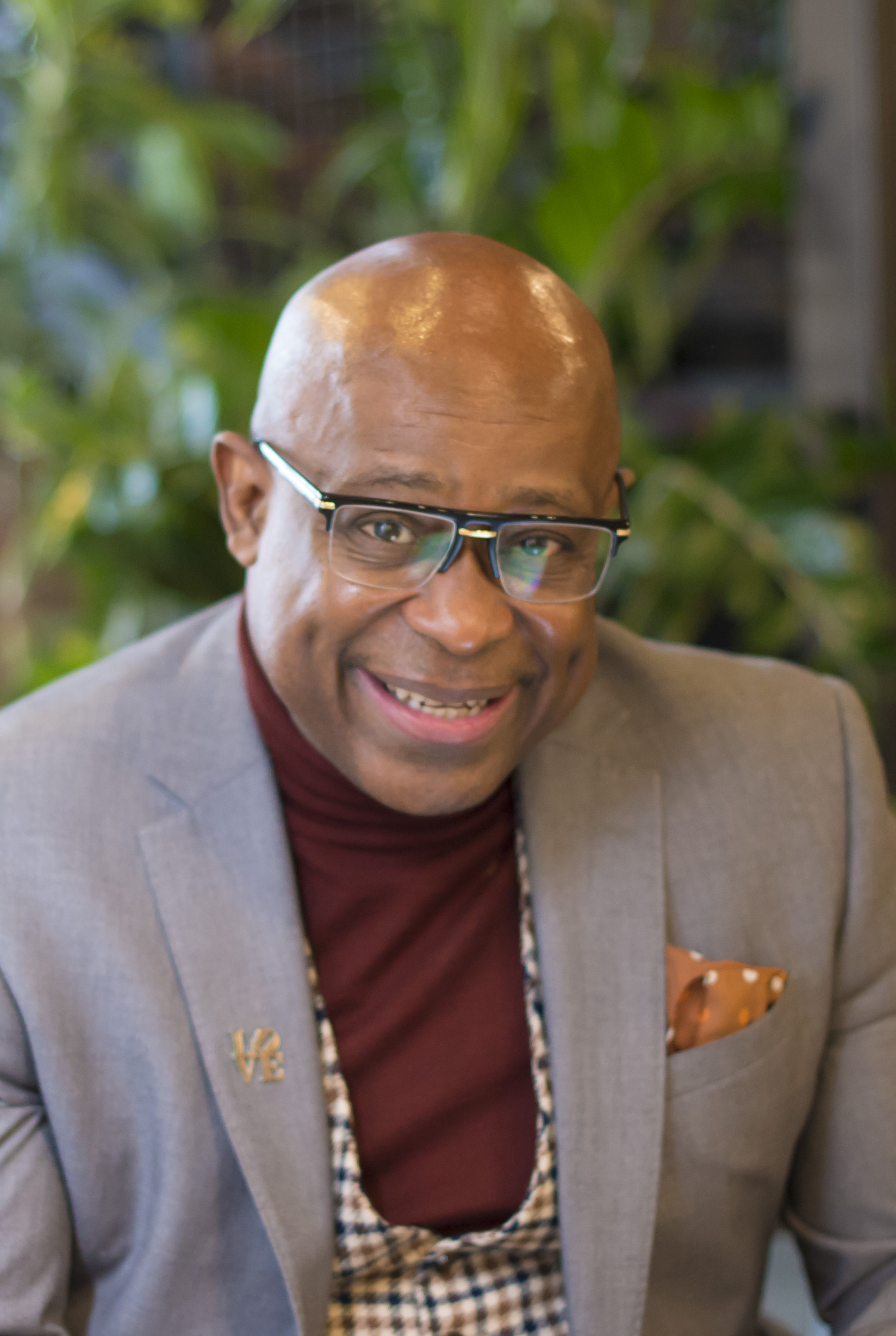 Catholic Leadership Speaker Series
October 14, 2021
Our third virtual Catholic Leadership Speaker Series featured special guest speaker Dr. James Smith, Jr., President and CEO of Dr. James Smith, Jr.
He spoke about new ways to accelerate our personal power to consistently live what we give. These are challenging, character-building and pivotal times. During this quick-paced, high-energy session, we:
Explored the true meaning of authenticity
Uncovered why it's more important than ever before for us to be at our authentic best
Discussed what helps and what hinders authentic expression
Examined how authenticity can help us provide a much greater level of service and support
Explored the impact that personal power, personal accountability, and faith have on authentic communication and living
For over 20 years, hundreds of thousands of people, both national and international audiences of all sizes, have experienced the passion, creativity, storytelling, unshakeable positivity and mind-shifting power of Dr. James Smith, Jr. CSP. Dr. James is a lightning rod in the professional and personal development spaces, creating performance breakthroughs for organizations, teams and individuals looking to improve in the areas of authenticity, diversity and inclusion, personal power, leadership, presentation and/or facilitation skills.
After 14 years in corporate America, and four years working with several training and development and diversity and inclusion consulting firms, Dr. James formed his own company (now called Dr. James Smith, Jr.) to help others remove self-created and/or organizational barriers to jump into their BIGNESS. He says that he "disrupts ordinary". His mother (Nanci Smith), 12th-grade, English, high school teacher (Mrs. Brodie), a former manager at the Vanguard Group (Kathy Cook) and little league baseball coach (Sam Gallman) fueled his motivational spirit and he continues to fuel others. A personal-power expert, educator, speaker and coach, Dr. James has started a "no excuses personal accountability" revolution. He does this through virtual and in-house workshops, public BOOT CAMPs, best-selling books, blogs, coaching, and motivational keynotes. Those who have been*JIMPACTed* say that he has the rare ability to walk the line between direct and encouraging. His teaching and coaching methods have worked regardless of the industry or the country.
Dr. James has taken his message to over 25 countries and has taught presentation skills, leadership and diversity and inclusion for the Rutgers University Executive and International Executive MBA Programs since 2008. In addition, he serves as an adjunct faculty member for the Temple University Fox School of Business and for Rushford Business School in Genève, Switzerland. He has worked with and coached speakers, trainers, television and radio personalities in how to make compelling, engaging and "game-changing" presentations. He has achieved the National Speakers Association Certified Speaking Professional designation – a designation that only about 17 percent of NSA members worldwide have earned. His clients include Biogen, Sabic (Saudi Arabia), AstraZeneca, Accenture, Aflac, Genentech, Jockey, Comcast, KenCrest, The Kimmel Center for Performing Arts, Tweezerman, Bristol Myers Squibb, IHI Energy, The American Club (Singapore), Celgene, Western Union, Aimco, Genworth Financial, Metlife and Lockheed Martin.
Dr. James has authored three books with The No Excuse Guide to Success: No Matter What Your Boss or Life Throws at You book earning an NAACP Image Award nomination. His most recent book (a co-authored book project), A Collective Breath: Stories of Being Black in America and Visions of Change, was recently released. His James' Journal blog reaches audiences all over the world. When he's not JIMPACTing, Dr. James helps to raise awareness and support for people on the Autism Spectrum.
To watch a recording of this event, please click here.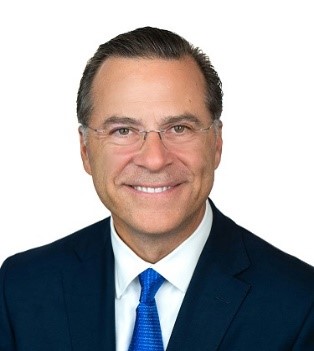 Catholic Leadership Speaker Series
April 21, 2021
Our second virtual Catholic Leadership Speaker Series featured special guest speaker Christopher Franklin, Chairman and Chief Executive Officer of Essential Utilities, Inc. Christopher discussed what it is like to run a highly successful enterprise that focuses on delivering excellent service, acting as stewards of the environment, enhancing economic development, and making charitable contributions. He also discussed his company's core values, how he implements compassion and stewardship into his company's culture and the importance of diversity both in the workplace and through company partnerships.
Christopher has served as CEO since July 2015, and as Chairman since December 2017. Since being named CEO in 2015, the company's market capitalization more than doubled, to more than $11 billion. Through the company's growth-through-acquisition program, customer count nearly doubled and total return to shareholders was more than 100%.
In 2018, the company welcomed its one-millionth customer, and in 2019, it announced what will be the largest municipal acquisition in the company's history – an agreement to acquire the wastewater assets of the Delaware County Regional Water Quality Control Authority (DELCORA), adding 165,000 new customers. But the accomplishment Christopher is most proud of is building a strong management team. He has worked deliberately to bring diversity to the company's Board of Directors, employee base and management team. Under his leadership, the company has been recognized by the Forum of Executive Women in Philadelphia. Additionally, he was named one of the Philadelphia Business Journal's Most Admired CEOs.
Christopher earned his Bachelor's degree from West Chester University and his MBA from Villanova University. He and his wife, Jennifer, have three children and are members of St. Norbert Parish.
To watch a recording of this event, please click here.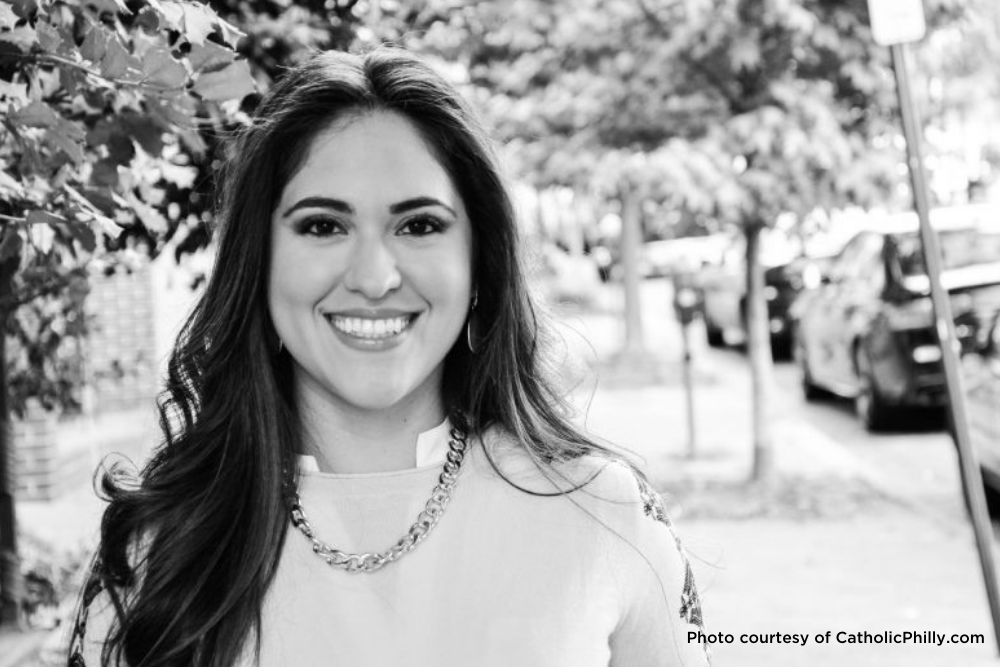 Catholic Leadership Speaker Series
December 09, 2020
Our first-ever virtual Catholic Leadership Speaker Series featured special guest speaker Montse Alvarado, Vice President and Executive Director for The Becket Fund for Religious Liberty.
Montse Alvarado joined the Becket Fund for Religious Liberty in 2009 and was named Vice President and Executive Director in February 2017.
With a background in public policy, she has led initiatives at Becket that have secured seven Supreme Court religious liberty victories including two wins against the contraceptive mandate, two protecting the rights of religious groups to choose their leaders, and one safeguarding the free speech of crisis pregnancy centers and religious groups on campus. Montse was profiled by the Wall Street Journal's Weekend Edition with the following introduction: "A defender of all religion, on the front lines of America's culture wars."

Montse has degrees from George Washington University and Florida International University.
To watch a recording of this event, please click here.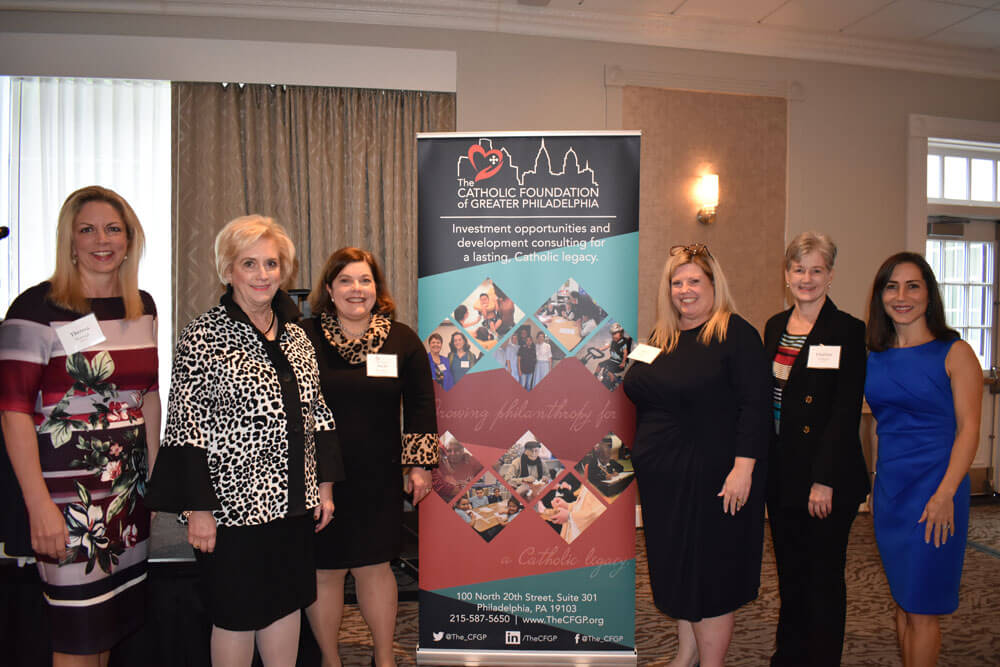 2019 Women in Philanthropy Forum
October 22, 2019
Our fourth annual Women in Philanthropy Forum might have been our best one yet! This year's theme focused on the Catholic giving landscape from a woman's perspective, and our panel was filled with representatives from across the nonprofit sector. From development professionals to philanthropists, each female panelist brought something unique and inspiring to the table. Discussion topics also included the importance of female leaders in the nonprofit sector and how to effectively convey your mission's message.
Special thanks to our panelists Irene Hannan, Charlene Flaherty, Linda McDonough and Theresa Murtagh, and our moderator, Dr. Laura Sicola, who did a fabulous job guiding our discussion!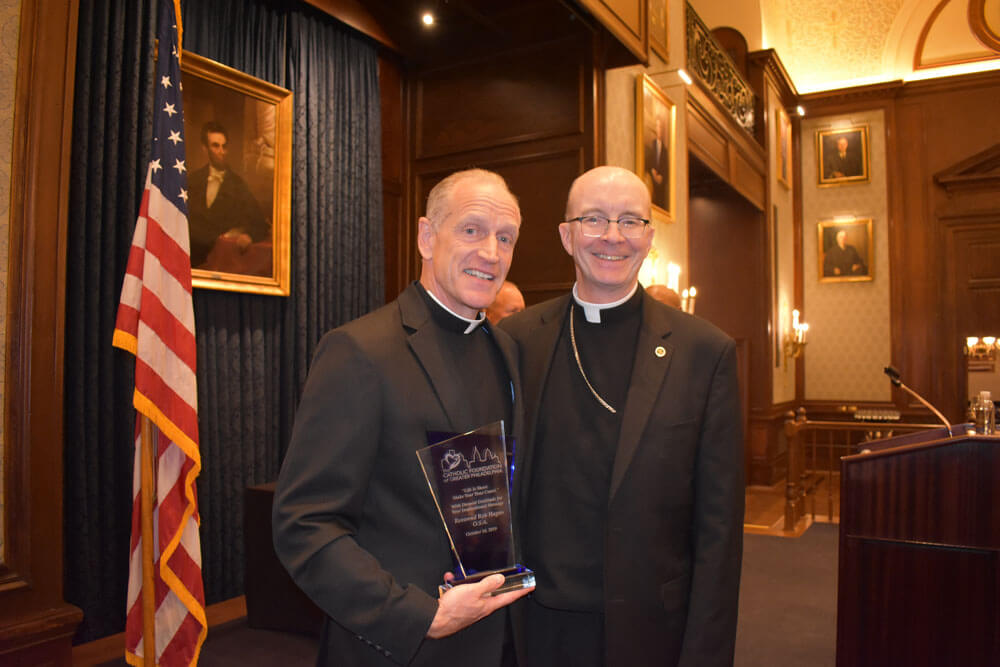 Catholic Executive Breakfast: An Inspirational Presentation by Rev. Rob Hagan, O.S.A.
October 18, 2019
For our first-ever Catholic Executive Breakfast, CFGP teamed up with local businesses to host a morning of reflection and empowerment. With Fr. Rob Hagan, O.S.A., of Villanova University as our keynote speaker, our guests were destined for an inspirational morning. Fr. Rob spoke to us about hope, gratitude, and most importantly, faith, and we all left just a little more motivated than we were before. We thank Fr. Rob for being with us for this event, and our sponsors, Kistler Tiffany, PMC Property Group, FirstTrust and KeyBank for making it possible!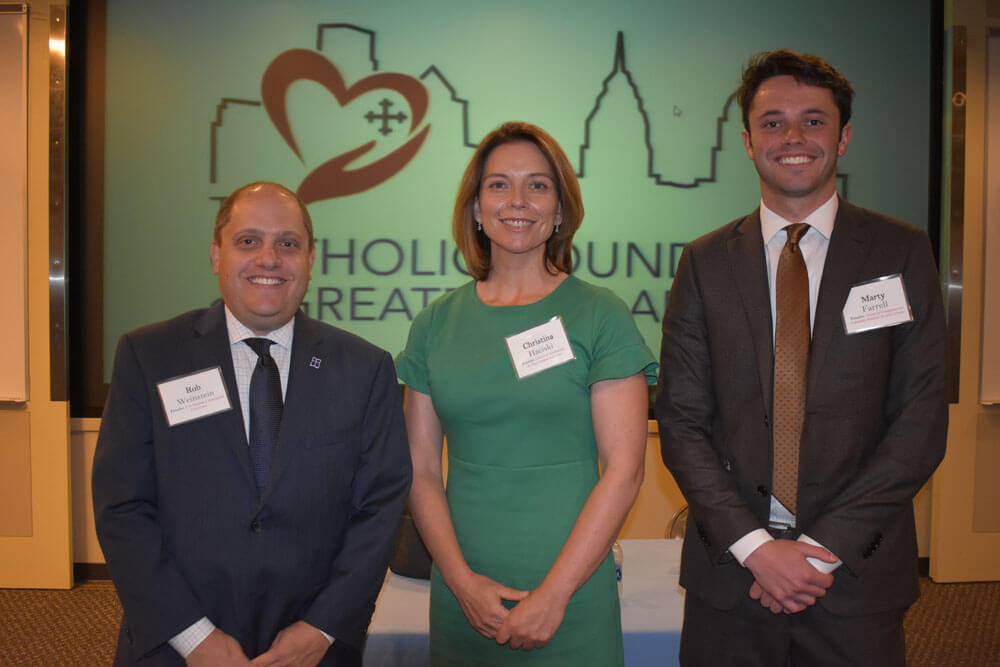 CFGP Fundraiser's Forum
May 23, 2019
Our spring Fundraiser's Forum featured a panel of development experts who provided insight into key factors impacting volunteer management, stewardship, grant and foundation relations, alumni relations and more. Our panelists included:
Rob Weinstein, Vice President of Development, Gesu School
Marty Farrell, Director of Development and Community Relations, St. John's Hospice
Christina Haciski, Director of Advancement, St. Mary Interparochial School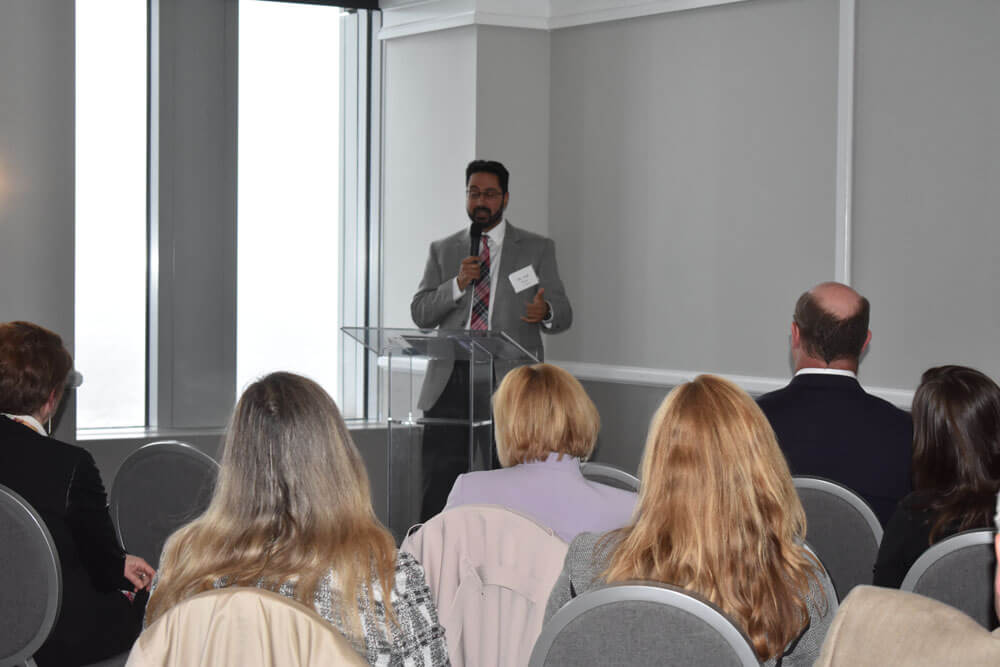 CFGP and Rothman Orthopaedics Spring Health Care Forum: Pain Management and the Opioid Crisis
May 01, 2019
This event brought together health care practitioners and executives from our area who are regularly impacted by the opioid crisis. Our speakers shared their thoughts on pain management and patients with addiction. Guest speakers included:
Dr. Asif M. Ilyas, President, Rothman Orthopaedic Institute Foundation for Opioid Research & Education
Dr. Nicholas Tenaglia, Board Chairman and CEO of the Progressions Companies and Malvern Institute
Dr. Alexander Vaccaro, President, Rothman Orthopaedic Institute
Mr. Geoff Botak, Malvern Institute
Fall Philanthropic Workshop Series: Website Best Practices and Prioritizing Your Development Efforts
November 07, 2018
Gillespie Group's Vice President, Mike Gillespie, Jr. and CFGP's Associate Director of Mission Advancement Services, Emily Gambino, discussed web design and content marketing for nonprofits and gave effective and efficient tips to prioritizing development goals.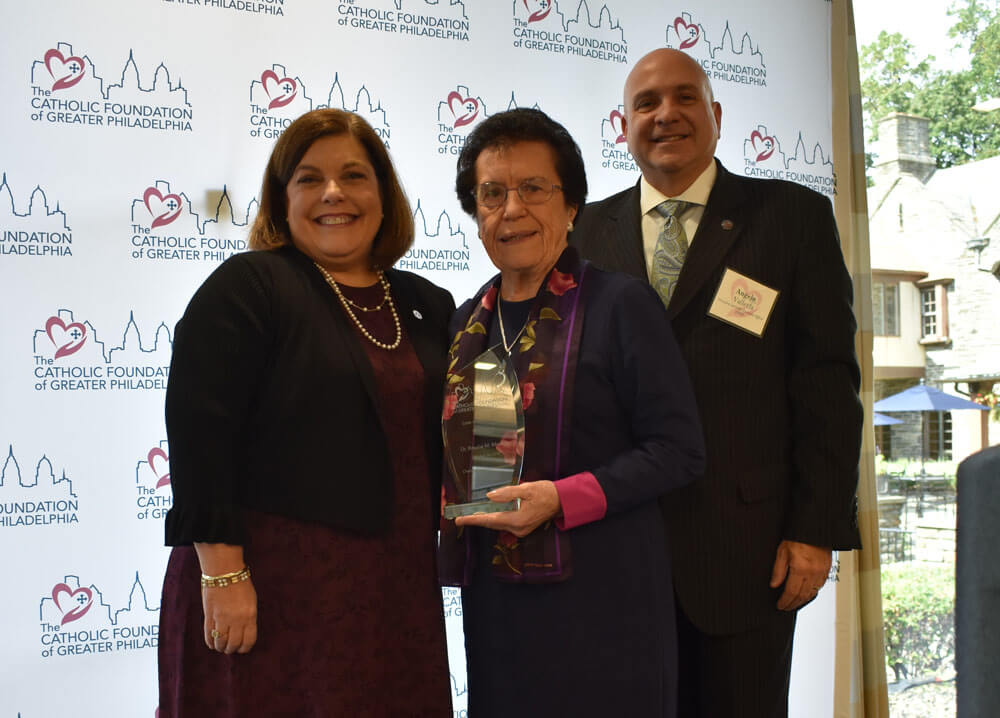 Women in Philanthropy Luncheon
October 16, 2018
This annual luncheon celebrates women leaders who inspire others in philanthropy and faith. Women in Philanthropy 2018 honored Dr. Rosalie M. Mirenda, President Emeritus of Neumann University with the Love in Action Award. The Love in Action Award is given to a female leader and philanthropist who has bettered her community through her love of the Faith and dedication to service. Women in Philanthropy 2018 also featured guest speakers from the first beneficiary organization of CFGP's Women in Philanthropy Leadership Fund, the Gianna Center of Philadelphia.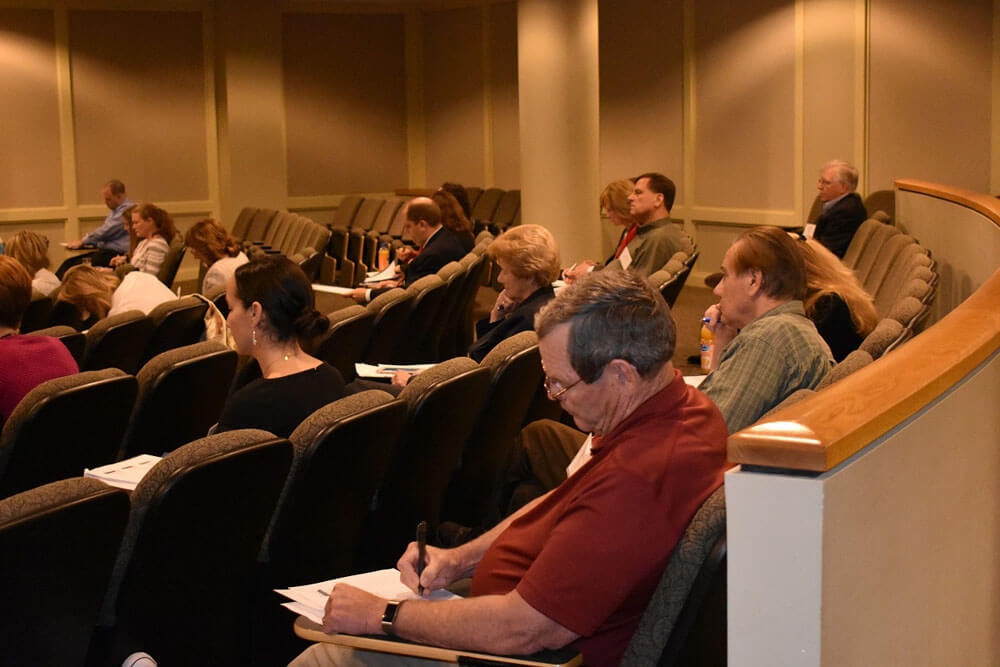 Spring Philanthropic Workshop Series: Navigating the New Tax Law and the Future of Planned Giving
May 22, 2018
CFGP's Planned Giving and Development Officer, Ms. Kelly Diaz-Albertini, Esq., informed workshop attendees of what to expect from the new tax law, evaluating the challenges and opportunities in 'The Tax Cuts and Jobs Act.' Ms. Diaz-Albertini also hosted a segment on the future of planned giving where she discussed development strategies and the role of professional advisors to help create a planned gift pipeline.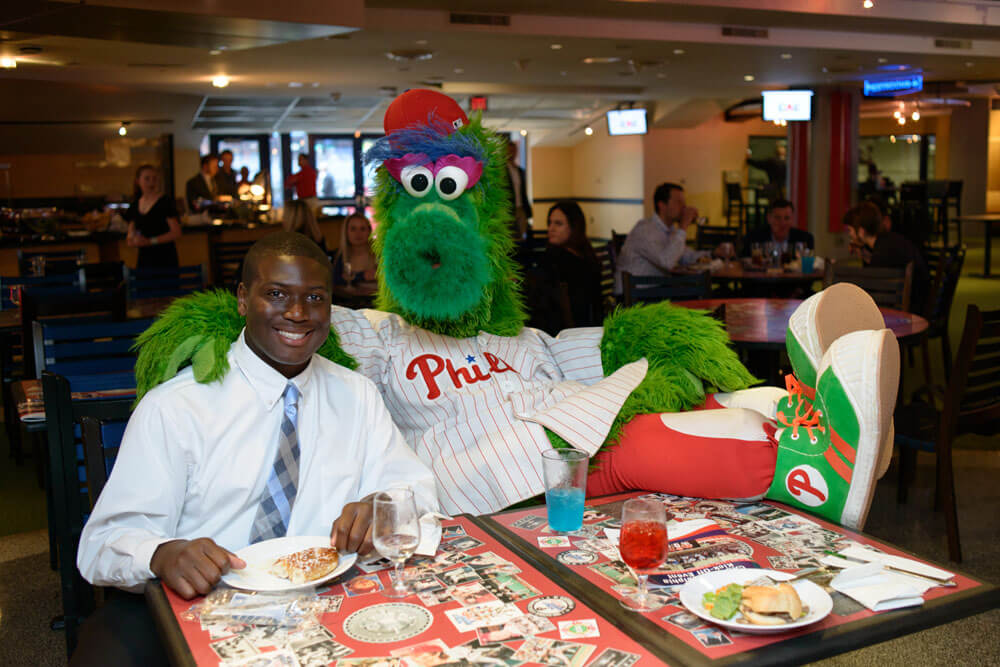 Catholic Athletes for Christ Philadelphia Kick-Off
May 17, 2018
Catholic Athletes for Christ (CAC), a nationally recognized nonprofit that helps Catholic athletes share the Gospel through athletics, officially launched in Philadelphia in May of 2018. To celebrate their arrival, CAC worked with CFGP to host a kick-off celebration, attended by local, Archdiocesan athletes and their families. Event highlights also included the appearances of special guests Jason Avant (former Philadelphia Eagles wide receiver), Dwight Gooden (former Major League Baseball pitcher), Bernie Parent (former Philadelphia Flyers goal tender) and the Phillie Phanatic!
Stay Connected and Subscribe
Stay Connected and Subscribe
Be the first to receive good news stories and information about upcoming events.